What is Linux hosting and Windows Hosting? – How to choose..!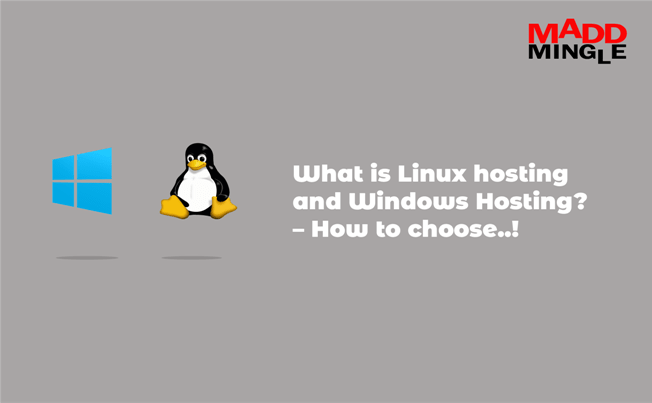 Are you want to host your website/brand after designing and you are confused that which server (Linux and Windows) is best for hosting? Here I will share information about Windows and Linux server hosting. Here I will also help you to choose the exact hosting platform. Let's start,
What is Web Hosting and Web Server
A server or web server is such a computer that helps to run and maintain the website. The basic purpose of a web server is to store web pages, process them and finally deliver the web pages to the user. Moreover, Web hosting is a process that provides the service of giving space to all websites on the Internet. Because of this, the website can be accessed through the Internet all over the world.
Web hosting is that place where all files of your website are uploaded. Like- images, media, coding files, etc. It also helps to manage database management, installation software on the server, statics management, file management, domain management.
But web hosting does not do this directly, but to work on these things, web hosting provides us some tools which we call a control panel. Linux has its own separate control panel and Windows has its own separate control panel. The one who comes to the control panel for Linux is called cPanal and the one who comes for Windows is called Plesk.
About Linux and Windows Hosting
Windows Hosting
Web hosting computers that have a Windows operating system are called Windows hosting. Now because Windows is not free, the hosting company has to purchase a license for Windows. Windows Hosting also called Windows Server Hosting or Windows Shared Hosting, is a Web Server that runs Windows OS.
If you are intimate with Windows on desktop computers and want to keep up with your acquaintances, then Windows hosting may be the best bet for you.
Microsoft also has a hand over Windows hosting, which keeps your hosting secure and defect-free by providing regular updates. According to my personal experience Windows hosting is one of the easiest to use web hosting products and it's very easy to work on it.
As a technical language, Windows Server Hosting is the only hardware on which Visual Basic or .NET programming languages can run. This is also your best option for scripting Active Server Pages (.ASP).
Best Providers: HostGator, A2 Hosting, GoDaddy, Hostinger, DreamHost
Linux Hosting
When we get web hosting on the computer of a web server that has a Linux OS installed, it is called Linux hosting or shared hosting. Linux operating system is open-source software, so it costs companies less to provide this hosting service and it is also cheaper for you.
Although Linux is less popular in desktop computing, it is highly popular among mobile developers and game developers. It is the lifeblood of Android. Linux hosting rarely requires a reboot or restart, so even complex-to-complex updates to your website can be completed without closing the site, or closing it for a very short time. Moreover, Linux servers are known for their security and stability among users.
Best Providers: Bluehost, HostGator, InMotion, A2 Hosting, SiteGround
Let's know: Free & Paid Online Video Making Tools
Difference Between Linux and Windows Hosting
Users can use both hosting but Windows hosting is a little bit costly. On other hand, Linux is an open-source operating system so you don't have to pay too much for them.
When we login Windows hosting server and Linux hosting server, the Linux server used a command-line interface and a Windows server point-and-click interface.
cPanel web hosting application only runs on Linux servers and the Plesk web hosting or .NET programming languages are only available with Windows Hosting. So here you can decide the correct hosting server.
Due to stability and security, many users go for Linux hosting. Also, users do not have to reboot or restart Linux hosting if they make the biggest update to their website or server. On other hand, Windows hosting may have problems related to server downtime.
Linux Server proves to be more difficult for hackers than Windows Server. Even some believe that malware is easily downloaded in Windows compared to Linux. Also, more than 70 percent of the Windows system available in the market, due to which it is very difficult on Linux to have any malware.
Frameworks such as ASP and ASP.NET are quite easy to install and manage on Windows. Also, scripts and web pages developed on any one of these Windows Framework (ASP & ASP.NET) will be used on Windows Server.
Wrap It Up
Here I tried to inform you about the Linux server and Windows server so that you can clearly confirm which hosting server is good for you. Even if you have any questions, you can contact us. Also, you can share additional information about Windows hosting & Linux Hosting.