Best Online Video Maker Tool for Creating Videos Online.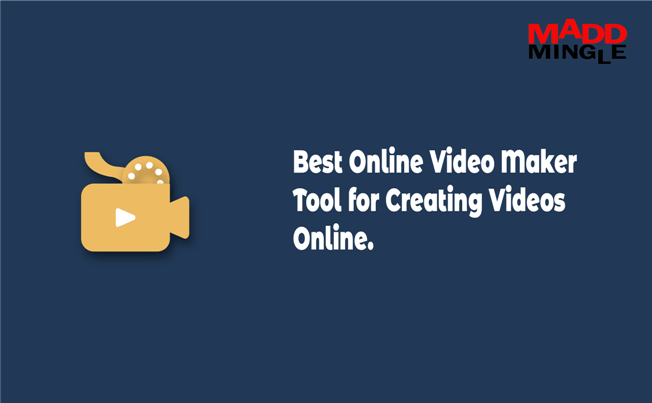 Recommended online video maker tool to create effective videos. Here you will get to know the best online video maker tools so that you can easily design creative videos.
As we know, videos are currently playing a very important role in business and product development. Most people prefer to watch videos to judge any product or to find out something about them, and it is also very easy. People rely more on visual things and videos than on reading, as well as it also reinforces their decision.
Plus, in the business sector, video helps to increase traffic, reduce user queries, increase sales, and better explain our products and services. According to a survey, more than 80% of people are going to buy any product and software after being convinced by his video.
How to Create Good Quality videos
To create an effective and engaging video, first, you have to set the listed thing in your mind.
Do the research and find out your target audience.
Understand user problems in a better way.
Choose the best platform for design videos.
Content should be unique and valuable.
Select appropriate design and colors for your brand.
The sound of the video should be clear and effective.
Video length should be between 1.5 and 2 minutes and impressive.
Top Best Online Video Creator Tools
Although there are a lot of online tools available on the web for making videos, here we will inform you of those online video editing tools that will help you to make videos of impressive and best quality easily. Let's know!
Biteable
Biteable is an outstanding platform to create impressive videos. Here you can easily create animated and creative videos Quick with zero video experience. Making videos here is as easy as buttering bread It offers different animation, stock footage, and photos to create marketing, social media, product demo, ads, Sales, corporate, education, or other related videos.
Biteable offers users the to design videos without any charges with limited access and a Biteable watermark. To break privacy and remove the watermark you can choose its Plus or Ultimate plans as per your need.
Magisto
Magisto is a trusted online video creator amount users and professionals. Here you can easily and quickly create personal and business-related videos. Using three smile steps (Add videos or photos, choose the theme, and choose a soundtrack) you can create incredible videos. Before downloading, here you can view the complete video so that you are convinced with your created videos and if there is any issue you can re-edit that. It is available for iOS, Android, Online platforms.
With the watermark of Magisto, you can download your created videos. If you want to download the video without the watermark and want to use other advanced features you have to select the right plan( Premium, Professional, or Business plan) that fulfills your requirement.
Animoto
Animoto is a cloud-based video maker service that helps to generate videos using photos, video clips, and music. It offers different types of templates to quickly make outstanding videos. It also can help you increase traffic & sales and proceed with your business. It is much easy for users as well as here users don't need any technical Knowledge for editing videos. It provides a vast music library to find and import suitable music for your video. After creating videos you can easily share them with your audience.
You can use the free plan of Animoto with limited features and create videos with Animoto Watermark. To break the limitation and use advanced features go for the Professional and Team plan.
Let's know: How to create a subdomain website?
Clipchamp
Clipchamp is also an impressive online video editor platform that enables people to tell about your business and products in a good-looking way worth sharing through video. More than 12 million customers, including business developers such as Comcast, Microsoft, and Dell, are relying on Clipchamp to create reliable videos for creative, corporate, and educational projects. Use its video editor, Video converter, video compressor, and Webcam recorder to design beautiful video. Here users also got unlimited templates and video clips to make a good quality video. This is truly the best application to make a great video. Furthermore, it does not matter how much experience or skill you have for video editing. A simple drag and drop facility enables users to trim, rotate, crop, and flip videos as per their need.
The free plan comes with limited features, therefore, for a better experience select the Creator, Business, or Business Platinum plan as per your requirement.
Wave.video
If you are looking for the best way to create repurpose and distribute videos, Wave.video can your work easy. It offers thousands of templates so that you easily create videos and customize your business. Here you can use its million videos, images, and audio clips to engage with us and make brilliant videos. Moreover, it also offers a video hosting facility. After creating the video you can directly share on the different platform, like- Facebook, YouTube, Twitter, Dropbox, Wistia, Vimeo, etc. Wave.video also enables users to embed your video on a blog or website.
It also comes with a free plan with limited features. You can upgrade your plan in Creator or Business plan as per your need. Here you can start with a minimum paid plan for Creator at $20/month and for Business at $40/month.
Renderforest
Renderforest is also a well-knowing video-creating platform between business and developers. It also allows creating the best quality videos with a professional touch. Here you can create different types of videos for your business, and products with the help of Its thousands of video templates without hardship. It provides an easy work environment so that you can swiftly import images, trim videos, and edit text content and make a professional video. There is no technical or design skills are required to work on it, Apart from this, it also offers users to Make Logos, Edit Mockups, Build Website, and Design graphics.
Using the free trial version you can download the created video with a watermark. To remove watermarks and users other advance you can choose its different plans (Lite, Amateur, Pro, and Agency) as per our requirement.
Let's know: Online Backlink Checker Tools?
Alternative Video Editor
FlexClip
FlexClip is a lovely place to create animated and creative video and slideshow makers for business and personal use. Follow 3 simple steps (Add Media, Customize, and Export), you can make a fantastic video.
WeVideo
WeVideo is a great platform for editing memorable, Business, and Educational videos using its millions of stock media, including videos, images, and music tracks.
Adobe Spark
Adobe Spark offers users the to quickly create social graphics, web pages, and short videos with any technical knowledge. It offers unlimited pre-designed photos, video clips, templates, icons, and videos to make perfect videos.
Closing Statement
Here I have suggested to you the popular video platform where anyone can make online videos for personal, professional, and social purposes. I hope you guys like it if you need it. Comment for more information or questions.