Free Method to Import PST File into Gmail/Google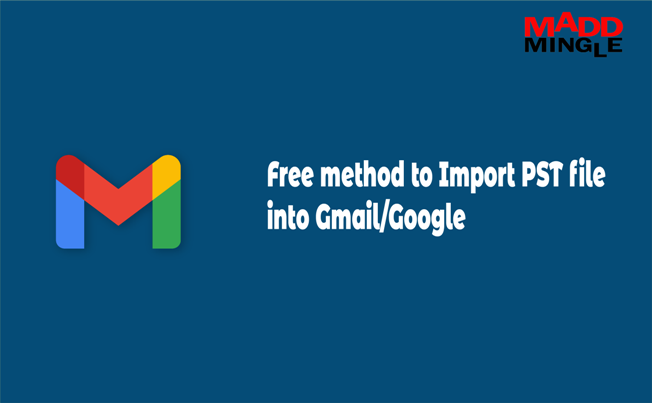 Hello readers…! Today we will know how to migrate Microsoft Outlook data to Gmail for free. Due to the platform independency, many users look for solutions to move their data to an online service like Gmail.
So if you want to import Outlook PST data to Gmail then continue reading this post.
Know More About Gmail and Outlook
Both Gmail and Outlook are used in large numbers in their place, so before entering Outlook data in Gmail, let's know a little more about both.
Gmail – is an online mail service developed by Google. It can be used by the user both paid and free. This is very easy to use and features like video chat and conferencing are also available. Recently Gmail has more than 1.5 billion users and it can be accessed on mobile/laptop through any browser and app. Users can also sync their data in any other email client using the POP3 and IMAP protocols.
Outlook – is a portable application of the Office suite developed by Microsoft. It can be installed and run on Windows, Mac, and Smartphones. It has many advanced features and the data is saved in PST and OST files. However, PST file is more useful and can be accessed in any other Outlook as well whereas it is not so with OST. Another useful feature is the Exchange Server, which is used by big organizations from a data-security perspective.
How to Transfer Emails from Outlook to Gmail?
There are many freeware and automated methods to import PST to Gmail. But my vote goes to the freeware method which is specially provided by Google.
Yes! It is very good news for us that Google provides a freeware tool to perform Outlook to Gmail migration.
GAMMO Tool
GAMMO is a G-suit migration app for Microsoft Outlook to import Microsoft Exchange account or PST email, contact, calendar, task, and various other items to G-suit or Google account. Plus, you can:
Import Outlook components simultaneously or separately.
Skip junk and deleted items
Pause and Resume migration at any time
Exclude the desired folder before initiating
Let's know: How to Resolve When Images Not Display of Outlook Emails?
Import PST File into Gmail Using GAMMO Tool
First, download the application from here: https://tools.google.com/dlpage/outlookmigration
Now install and lunch the program >> Enter your Google account email and select Remember Me to avoid repeating the process then press Continues.
Again click the Continue button to grant permission and go further in Google App for Microsoft Outlook migration.
In the next window, click on the drop-down and select From PST file (s) if MS Outlook didn't install, otherwise, we will go with MS Outlook >> Enable Migrate all data or Migrate only new data then press the Next button.
With all data migration, select all the items which you want to migrate to the Google app and press the Migrate button.
You will see a progress migration status window to import the Outlook PST file into Google Apps.
It will take some time depending on your Outlook data.
After completion, click on the OK button and go to your Gmail account to check your mailbox.
Conclusion
For better service of Gmail, this question often comes in people, how to import PST File into Gmail account. So I hope the above steps will be helpful for you. It is completely safe and secure to import Outlook data to Gmail/Google account. You can migrate multiple account data at once or repeat it for a different Gmail or PST file.